Google Keyword Planner
This simple yet effective keyword discovery tool allows you to create a keyword list by entering key terms related to your business, product or service. You can also search for keyword ideas by entering URLs for other similar sites.
The keyword planner shows you related keywords and the approximate number of monthly searches for each keyword on Google.com. A competition bar gives you an idea of how many competitors are bidding on a given keyword while the suggested bid lets you know approximately how much each click will cost. Once you have selected your keywords you can save your keyword list as a draft, import your list into your Adwords account, or you can download your keyword list into an Excel friendly CSV file.
Google Trends
Google Trends is a keyword research tool that allows you to compare search volume patterns across specific regions, categories, time frames and search engines properties (Google, Ask.com, AOL.com, etc). Whether you're an advertising agency, a small business owner, a multinational corporation, or an academic researcher, Insights for Search can help you gauge interest in pertinent search terms for use in your paid search campaigns and even your SEO efforts.
Insights can help you determine which messages resonate best. For example, an enterprise analytics company may be unsure of whether to use the keywords "big data" or "predictive analytics" for marketing a new API product into the UK. If you enter these keywords into Insights you'll see that the keyword "big data" has spiked in the last few years "predictive analytics has remained flat. Betting men, and savvy marketers alike, would place more emphasis on search terms around the primary keyword "big data" to capitalize on this growing market trend.
You can also use the Time Range feature to compare keyword trends for defined time segments. This feature is handy in identifying seasonal trends that may occur year over year. Using the example above we might assume that interest for "big data" takes a hit come time for rum and eggnog. We can select the "news headlines" option to get a list of major news stories related to "big data" for deeper investigation into this new technology trend.
Keyword Spy
Keyword Spy is a PPC tool that allows you to monitor your competitors keyword activity. The FireFox plugin is particularly useful for analyzing your competitors ads in Google to see what keywords they are bidding on.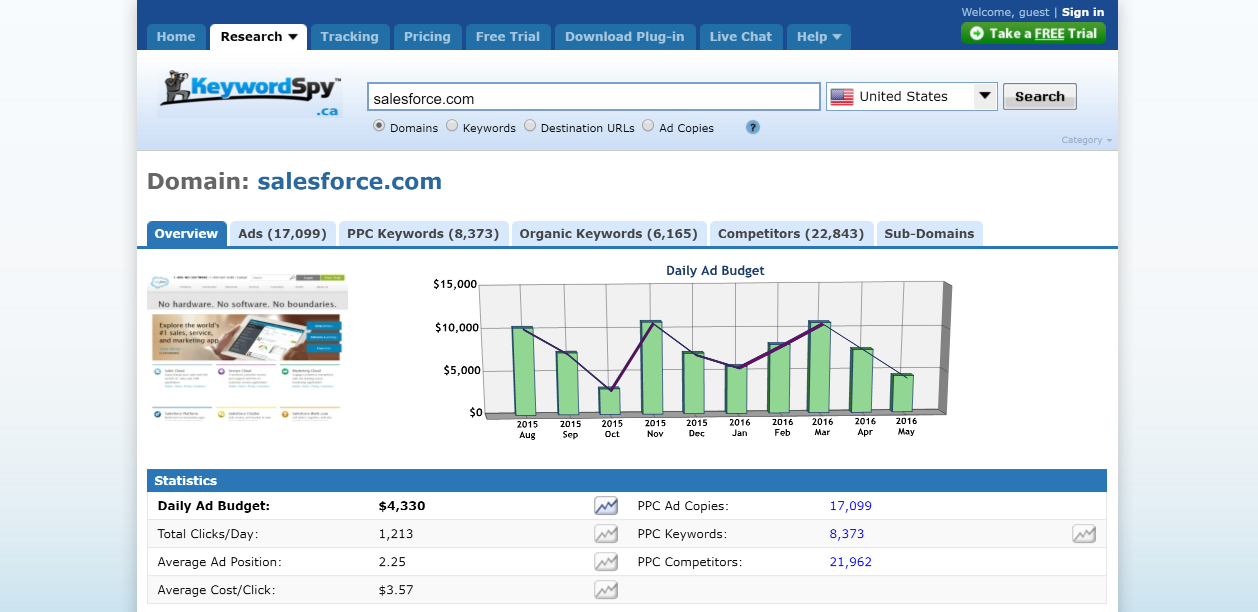 Global Market Finder
Global Market Finder by Google is an interesting keyword-driven market research tool that helps you locate new international markets for your products and services. Start by establishing your current location and target language and then enter a set of keywords. Additional filters help you narrow down your targeting by region.
The results page resembles that of the Adwords keyword tool; however, the Global Market finder presents an Opportunity Score opposed to a competitive rating for global markets opposed to countries or regions. Global markets are country groupings such as Africa, Americas, Asia, Emerging Markets and Europe. The opportunity score is a dynamic metric based on local monthly search volume, suggested bid and competition between different locations within your target market. The tool also recommends related keywords for a specific market and will help you translate your keywords into additional languages for use in your paid search campaigns.