Consumer Barometer
ConsumerBarometer.com is a free research tool developed by the IAB and Google, that graphically displays how online consumer behavior influences offline purchasing decisions and vice versa.
Here are four areas that the CB tool explores:
How Consumers Research and Purchase Products
How Search Engines Play a Role in Purchase Decisions
How Consumers Access the Internet
How purchase behavior differs across countries
The app makes use of rich data visualization to and provides the option to cut your data across multiple dimensions such as topic, product, country and audience. Read our full review of ConsumerBarometer.com on our blog.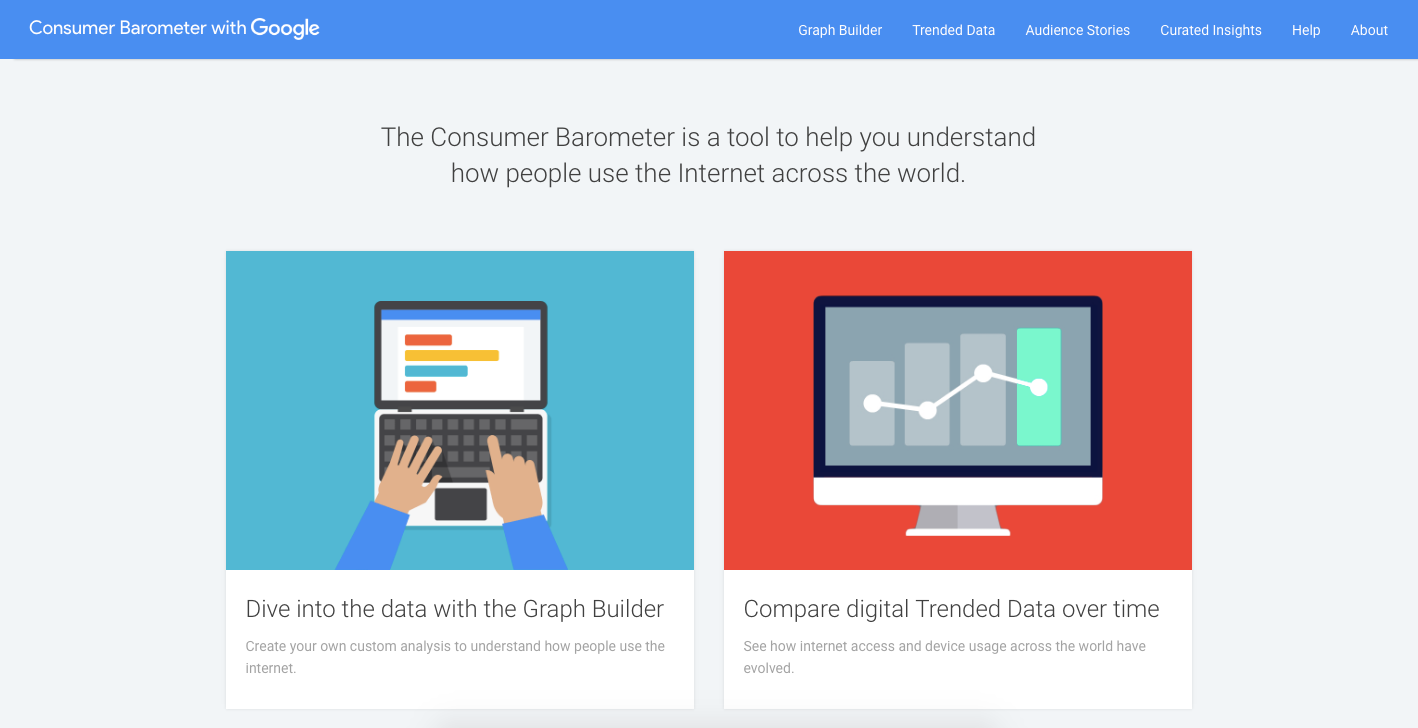 Quantcast.com
Quantcast is an audience intelligence tool used by 90% of online advertising and marketing agencies to measure and organize the world's audiences in real-time. Quantcast engages all 220 million U.S. Internet users, providing detailed audience profiles for the advertising marketplace to learn more about what consumers are doing online.
Quantcast also provide online advertisers with a new way to evaluate their individual customer profiles against the entire U.S. Internet population, so they can identify prospective customers numbering in the millions, even tens of millions.
Google Display Planner
Google Display Planner (formerly DoubleClick Ad Planner) is a free research and media planning tool offered by Google that lets media planners build ad campaigns to run in Google's Display Network (Previously referred to as the Google Content Network). Display Planner is setup like a wizard allowing you to first define your audience by identifying your customer demographics and interests based on geography, keyword, site category and ad specs.
As you can see by the screen shot above, Ad Planner provides audience insights for each web properties that you query. You can view age, gender, education and household income distributions for any given site. Ad Planner also provides a list of "sites also visited" to help you expand your ad plan to other sites with similar audience characteristics, a list of top "keyword searched for" and "audience interests". We have profiled the additional features of this tool more extensively in the Campaign Management tools section.
YouTube Insights
If you create and manage YouTube videos you can get some great data on your viewer demographics via YouTube Insights. The Insights tool provides access to viewer demographics and audience attention among other useful metrics. Below is a quick summary of the audience specific metrics that you can pull from for any YouTube video or channel that you control. A complete review of YouTube Insights has been posted to the Analytics section of the tools area.
Demographics
See the age and gender of your audience. You can adjust time and geographical data to explore how your audience differs before, during, or after specific initiative or in specific regions.
Audience Attention
The "Hot Spot" feature tells you which parts of your video are hot and which are cold by looking at bounce and rewind rate to videos of a similar length. At any time point in the video, you can see if more or less viewers are dropping off than on average.
YouTube Trends
One of the most interesting features of the newly launched YouTube trends is the Trends Dashboard that allows you to compare video trends by region (country or state) and age demographics. In the screen shot below you can see the "most shared" videos amongst females, 25-34 years old from Canada, Sweden and Japan. You can also sort by "most viewed".
Data junkies should love the new billboard charts, analytics and graphs promised by the Google Trends blogging team. At the time of writing Google Trends was only 1 day old and the blog was fairly bare bones. That said, we do think that Google is making a serious effort to surface video data to help marketers, and video producers alike, remove the guess work of creating "viral video campaigns".
By aggregating trending videos, data and editorial insight, marketers can study hot topics by region and demographic to lessen the risk of producing video content that is passé, over-done or not outside the social jet stream.
We have a complete review of YouTube trends available in the Analytics section to help you learn the additional features of this tool.